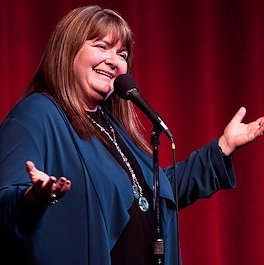 Juli Burney
Multiple award winning teacher, humorist and author, Juli personifies humor as the key to effective communication strategies and positive environments.
Expert
Attitude
Change
Communication
Conflict Resolution
Female Speakers
Humor
Motivation
Spouse Programs
Stress
Experience
Agriculture
Healthcare/Medical
About

Multiple award winning retired college professor, communication specialist, humorist and author, Juli Burney, M.A. makes an amazing connection with her audiences. She is able to entertain with the ability of a headlining comedian while either motivating or training with ease as a nationally recognized speaker. Juli has been honored by her state as Artist of the Year for her ability to help improve people's lives through humor and effective use of communication tools.

Recipient of the Toastmasters' International Communication and Leadership Award, Juli has worked in all 48 continental United States and Canada. She has been commissioned by a variety of associations from the National Endowment for the Arts to Fortune 500 companies to develop training programs that stick. She has filmed for Showtime and HBO, along with making numerous guest appearances on radio and television programs. Her humor is insightful, delightful, universal and enlightening on whichever topic she presents.

Juli has presented tailored workshops and speeches for thirty-five years to diverse audiences. Her uniqueness is in her ability to reach individual audiences on a personal level with examples from relatable situations. She is definitely a presenter that needs to be experience in person to truly appreciate her infectious attitude toward life, work and personal challenges. Through Juli, one is able to discover one's strengths, learn to celebrate our differences and find joy and purpose in life.

Program

ACROSS THE AGES – GENERATIONAL ATTITUDES

With the highest number of generations in the workplace at once, there can be some miscommunication. This presentation gives each generation the tools to educate themselves on the differences of generations and improve generational communication and teamwork in the workplace.

Creating a Positive Customer Service Environment

Sometimes the public can be frustrating and we forget that we are there to serve. The challenge is keeping a positive attitude even in challenging situations. This presentation will give you the tools to do just that!

DIFFERENT PERSPECTIVES

The communication landscape is rapidly changing with the addition of technology and the variety of generations in the workplace. This presentation will offer helpful communication tools with a touch of humor to help with perspective. Learn how to detach, connect and build a positive working environment with effective communication.

This subject is tailored to the needs of the organization, amount of time for the presentation, and of course, always given with humor. The topics that could be covered are: communication ownership, emotional intelligence, verbal and nonverbal communication, listening, communication styles, perception, values, persuasion, humor, communication channels, generational influences, gender influences and technology influences.

GENDER BENDERS

This presentation contends specifically with gender communication and how to understand and avoid Common Communication Collisions. Juli is able to help us accept and appreciate our differences with good humor and teaches us that when approached in a positive manner, gender teams can accomplish amazing things.

YOU ARE A WINNER

Everyone encourages us to have good self-esteem, but HOW?!?!? With the growing pressures put upon the work-force today, it is important that your employees feel good about themselves. A happy employee is a productive employee. Being able to like and laugh at ourselves combats fatigue and alleviates burnout. It's healthy – a little "internal jogging" anyone?

STAYING ALIVE, MENTALLY OR THEY WHO LAUGH, LAST

We, at times, can be our own worst enemy. This presentation provides the tools to keep ourselves from killing the enthusiasm that started us on our journey by helping us to stay alive and thrive in whatever environment we are working in..

How to Communicate with Difficult Challenging People

This presentation specifically outlines strategies on how to cope with a variety of challenging people through communication training and role-playing.